Eco Friendly Pools
A fiberglass pool is the environmentally friendly choice!
Fiberglass pools are the perfect choice for people concerned about their pool's environmental impact. Non-porous surfaces mean fewer chemicals are used on a regular basis and less cleaning is required, also resulting in reduced electricity usage. Automatic pool cleaners also clean more quickly and efficiently.

Fiberglass pools do not present a risk for leaching water, chemicals, and rust into ground water – unlike more traditional pools might. Fiberglass also acts as a natural insulator, meaning a significant reduction in the draw and operating costs associated with filters and heaters. Finally, since fiberglass pools do not require re-plastering, and there are no liners to replace, there will be less waste in our landfills.
Fiberglass Pools – the best type of pool!
Compare For Yourself – Fiberglass versus Vinyl Liner versus Concrete pools
Not only are fiberglass pools the best option for most homeowners, SwimUSA Pools is the premium brand of fiberglass pools available on the market today. Made in the USA and backed by the industry's best warranty, our customer service is second to none. Give us a call at (609) 561-9300 to learn more!
We look forward to helping you create the backyard of your dreams!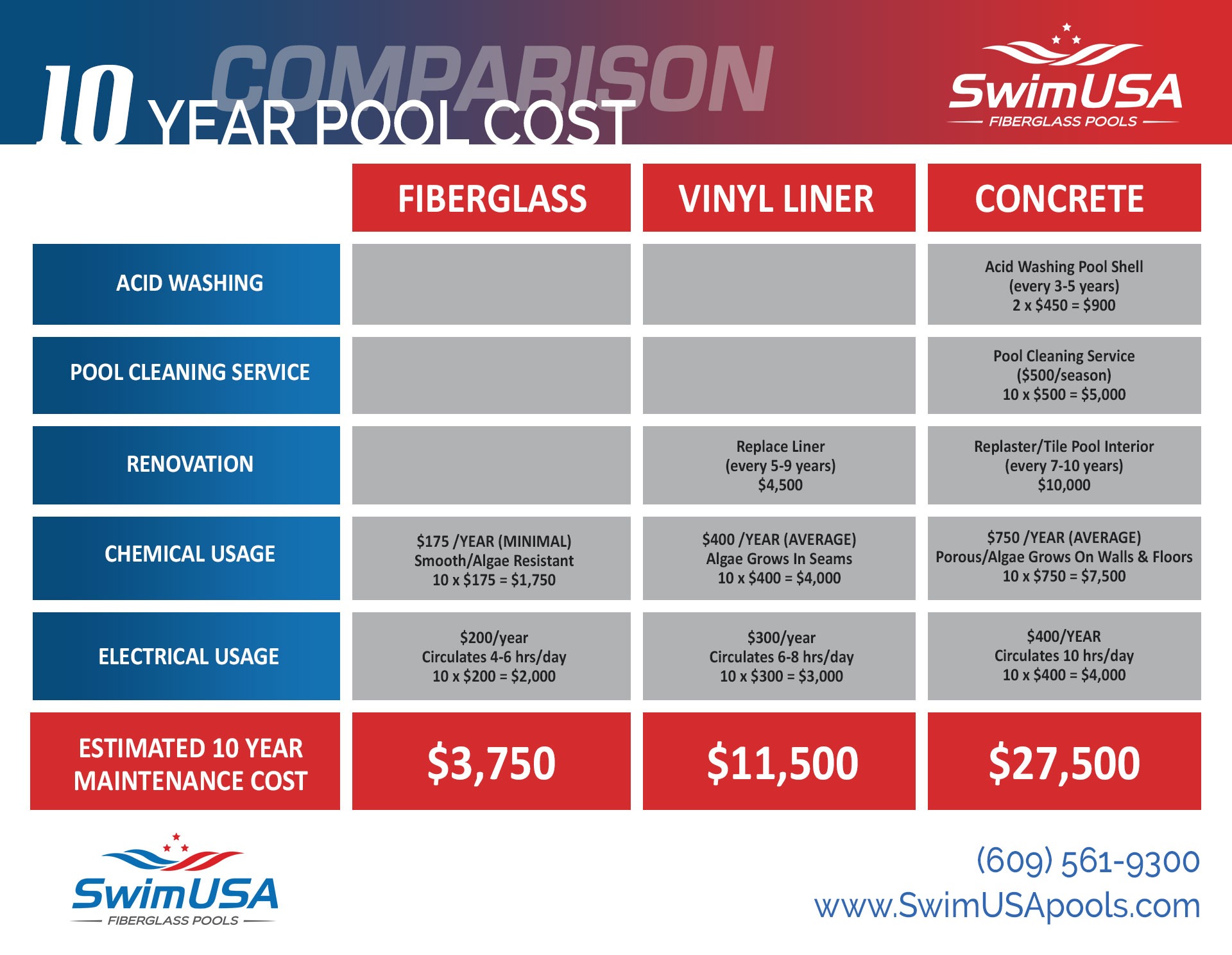 BEST CHOICE  |  Fiberglass pools can be installed quicker than other pool types and are typically easier to maintain, making them the perfect choice for many homeowners.
Efficient Installation
Your new Fiberglass swimming pool comes directly from the manufacturer's facility, ready for us to install. Even better, we can have you swimming in it within a week, while a concrete pool installation could have your backyard torn up for several months.
Smooth Finish
Our swimming pools have a smooth gelcoat finish that is non-abrasive. No sharp edges, no rough surface – and no scrapes on your skin.
Low Maintenance
A fiberglass gel coat finish will look great and typically require little or no maintenance because the smooth non-porous surface resists the formation of algae.
Stain-Resistant
And that same smooth surface means that, assuming the pool pH remains the normal 7.2 to 7.6 range, you won't have to worry about stains and discoloration.
Super Strength
Our pools exceed the standards for shell thickness and the tensile strength of Fiberglass means that the pool shell can handle earth movement by flexing instead of cracking.
Low Chemical Use
One of the misconceptions about pools is that they require constant monitoring and chemical treatments. A fiberglass surface is inert, so the water chemistry is easier to keep in balance. Minimal chemical use means more savings and less environmental impact. We also offer the environmentally safe alternative of a CL Free Ultra system to sanitize your pool.
Seeing is Believing
With our fiberglass pools, you get just what you see – the styles and sizes are molded to exact specifications and do not vary at all from your choice.
Compatibility
A variety of pool sanitation methods – chlorine, mineral systems, salt chlorination, chemical-free ionization systems, and more – work well with fiberglass swimming pools.
FIBERGLASS POOL FAQs
How long does it take to install a fiberglass pool?
2021-08-19T13:00:46-05:00
The installation time of a fiberglass pool depends on several factors, like weather, the builder's schedule, and how extensive of a project you have. Many people think of their "pool" as the entire backyard where there pool is; however, the pool itself is the fiberglass shell. The time for completion of your entire backyard poolscape will depend on if you have a concrete patio, travertine, or pavers, as well as other items like outdoor kitchens and showers. Weather and scheduling permitting, most fiberglass pools can be installed in 1-3 weeks to a point where the patio can begin.
Fiberglass Pool Myths:
People occasionally express concern about a common myth associated with Fiberglass pools. The idea that a fiberglass pool with 80 tons of water in it will "pop" or "float" is an idea promoted by those selling gunite or vinyl-liner pools. The reality is that any watertight pool can shift if there is an imbalance in pressure – that is, if there is more water under it than in it. As a result, all pools – fiberglass, gunite, or vinyl-liner – are at risk of floating when they are drained and the water pressure under them is no longer kept in balance.
This is where fiberglass has an advantage! Gunite pools are drained frequently for repairs and cleanings, while vinyl-liner pools can require draining to repair or replace liners. Fiberglass pools never need resurfacing and come with lifetime warranties, so they never need to be in the vulnerable position of being empty.
If there are legitimate concerns about water levels below a pool, there are a number of solutions, including having a drain installed to monitor and drain excess water, so water levels beneath a pool should never need to result in damage.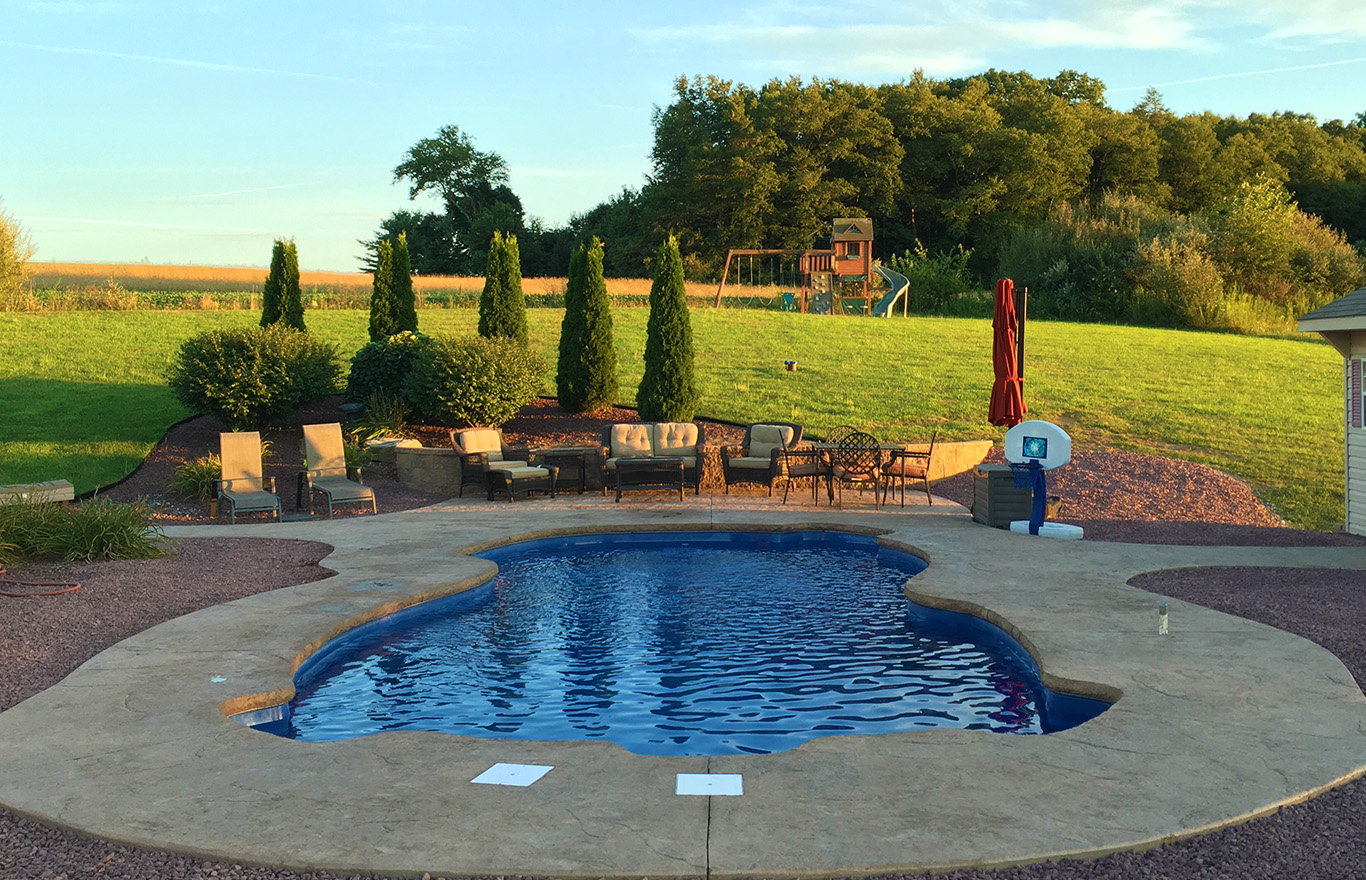 Pet Friendly Pools
You are not the only one who will love your new pool – chances are your dog will too! Plenty of add-on features will help accommodate your furry friends, from ramps that improve accessibility to tanning shelves that provide cool resting places to pool-side umbrellas for shade. Below are some of the common pet-related questions we receive, but if you have additional questions, contact us and ask us how to help include your family's best friend in your new backyard lifestyle
What pool works best for dogs?
Fiberglass is the right choice for your pet! Vinyl-liner pools are easily damaged and concrete pools can be abrasive to a dog's paw pads. Just make sure you allow for a design with easy entrance and exit points!
What chemicals are safest for my dog?
We recommend the CL Free Ultra pool system, a purification and ionization system that means you can treat your pool without chlorine, minerals, salt, or other harsh chemicals. It is important to remember that your dog will likely be ingesting more pool water than you might imagine. Salt and chlorine can also really dry out and irritate their skin and sensitive paw pads, so with a CL Free Ultra pool system, you know your dog will be enjoying your pool just as much as you!
Peroxide and Pristine Blue (another non-chlorine sanitizer) are also healthy choices for both humans and pets.
What filter system should I use?
Dogs can have a major impact on the filters in your pool, with dander, fur, and bacteria finding their way into the water. If your dog is swimming regularly, it is important to treat and maintain your pool accordingly. We recommend a high efficiency filtration system from Pentair to keep those extra impurities at bay.